SUNDAY School Starting September 11
September 11, 2022 @ 9:30 am

-

June 4, 2023 @ 10:00 pm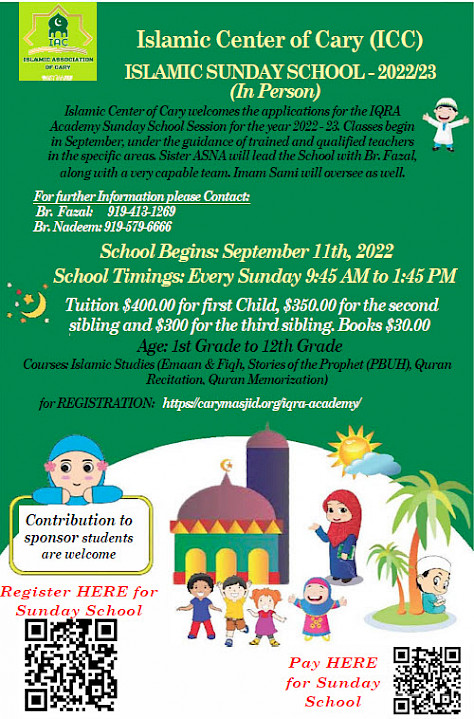 InshaAllah,
SUNDAY SCHOOL 2022-23
STARTING from
SEPTEMBER 11th, 2022
————————————————————————————–
IQRA Academy
On behalf of Cary Masjid, we welcome you to
IQRA SUNDAY SCHOOL 2022-23
STARTING from Sep, 11th 2022
We appreciate your decision to join us in efforts to adorn the young generation with Islamic education. We pray that Allah(SWT) gives us the ability to deliver authentic and quality knowledge about our Deen.
After registration, payment can be made at the Masjid Kiosk or via the below link:
The total Fee will be $400.00 for the whole YEAR
$350.00 for 2nd child; $300.00 for the third child.
50% of the FEE is due at the beginning of each semester (a total of 2 Semesters).

Jazakumullahu Khairan,
Wassalamu Alaikum wa Rahmatullah.